July 2nd 2009
H
ostile, America-hating jihadists captured in battles in Afghanistan were shown U.S. hospitality in Guantanamo – given Qur'ans and a proper Muslim diet, offered exercise and prayer time.  Each individual's case was carefully researched and heard, a lawyer by the jihadist's side to represent his interests.  Many were simply freed after this process, others ascertained judiciously to be too dangerous and returned to their cells.
And for this process, Leftists in America and anti-Americans around the world howled and spat and said vile things about our country and our president.  Even our new president joined in the condemning chorus, staking out the most left-wing of all candidates' position on the matter.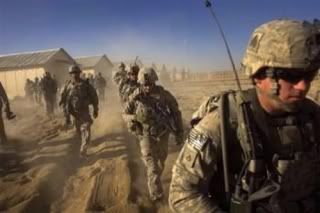 Now, with the capture of a U.S. soldier in Afghanistan, we have a sad and tragic opportunity to measure the behavior of America against the behavior of those who fight us on the battlefield, betray us on our shores, and denigrate us from the comfort of their protected European easy chairs.
We certainly can't expect anything approaching equal treatment and respect from those jihadist thugs who captured the soldier. Here's what WaPo reports on them:
"Our leaders have not decided on the fate of this soldier." the AFP quoted the Haqqani commander, identified only as Bahram, as saying. "They will decide on his fate and soon we will present video tapes of the coalition soldier and our demand to media."
So Haqqani leaders, not a tribunal, will decide his fate.  And he will be videotaped and used as a propaganda tool, a violation of the Geneva accords.  And they will use the soldier to make demands of us, rather than treat him as a prisoner of war.  Anyone who has followed these sorts of cases has to fear for the life of this soldier; I hope that is not the case, but he has suffered the great misfortune of being captured by people who are not Americans.
Check out the several stories posted on Memeorandum about this breaking event, and you will find no Leftist outlets or blogs listed; you will not be able to link over to any stories or posts from the Left, calling for justice and demanding compliance with Geneva. They are uninterested, just as they are suddenly uninterested in civilian deaths in Iraq or military operations in Afghanistan.  Hypocrites.
Don't count on this story even breaking through the Michael Jackson storm in the European press, obsessed as it is with deviant behaviors – especially by Americans.
Those who demanded full rights don't even much care about this soldier's right to life.  Guantanamo was all about serving a purpose other than protecting jihadists; it was about destroying a presidency and denigrating America, nothing more – and the Left's disinterest in the fate of this soldier is all the proof we need.