July 7th 2009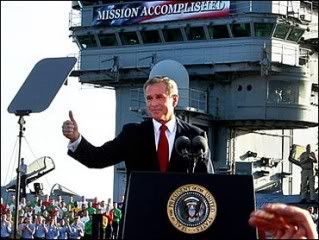 S
ix very long paragraphs into a seven-paragraph column in Slate, Christopher Hitchens finally gets around to the big question, as if it was an intellectual breakthrough of such import it needed a hefty introduction:
Which brings me to a question that I think deserves to be asked: Did the overthrow of the Saddam Hussein regime, and the subsequent holding of competitive elections in which many rival Iraqi Shiite parties took part, have any germinal influence on the astonishing events in Iran?
Oh, you mean like the Bush Doctrine?  Show them a little Democracy and stand back? Hitchens hedges his bets, saying "one swallow does not make the summer," and subheading the article (possibly by editors, not Hitchens), "Given the connections between Iraq and Iran, it's not as unlikely as it sounds).
Unlikely? One swallow? Iraq has a Shi'ite majority and Iran is a Shi'ite country.  Iranians know what the condition of Iraqi Shi'ites was before the war, and they know their condition now.  They see elections that are fair and open being held just across the border, and they know of candidates now holding office in Iraq that would never be approved by the Mullahs to even run in Iran.
The Bush Doctrine meme has been remarkably thin in all the coverage, blogging, punditry and tweeting over the Iran elections, but it stands in the middle of the story like an 800-pound gorilla no one wants to write about. Bush's war in Iraq so obviously led to the deep yearning for freedom in Iran that the leftist readers of Salon are howling in defensive, unsustainable protest:
Trace192 lays out the familiar diatribe:
Hundreds of thousands of American injured.. millions of innocent Iraqi civilians displaced or killed.. billions of taxpayer's money wasted..

And there's Hitch, still desperately grasping at straws in an attempt to justify it.
The loss of life in Iraq, while exponentially smaller than leftists predicted prior to the war, remains tragic and the Left refuses to let a single one of those deaths stand for something.
Candoxx has a disbelief of biblical proportions:
Well well well, not since the crucifixion of Jesus Christ has the extrication of one man and his sons from the planet resulted in so much, eh?

On planet Hitchens.
Philadelphia Steve is so sure of his worldview that he doesn't want to be bothered by being asked to think about any opposing view. He'll just remain 100% sure of himself about everything, despite history, despite events:
Do the Neocons ever give up their attempts to justify Bush's bungled, incompetent, wasteful invasoin and occupation of Iraq?

No.

And they never will.

The only question is why Slate, or anyone else, continues to waste space on people who have been 100% wrong on everything.

why?
Sir Real turns logic on its head, seeing a democracy (of sorts) ruled by Shi'ites as a threat to Iraq just like that big bad Sunni Saddam was:
On the one hand, it's self-evident that people's experiences (with, say, a brand spankin' new neighboring government) color their perceptions.

On the other hand, are you effing kidding me?

You could, AT BEST, argue that the Iranian people are willing to demonstrate because they no longer have to fear Saddam on the border. (The Iran-Iraq war killed 188k+ Iranian men and boys- not the kind of thing you want to re-occur by, say, destabilizing your current government). But to imply that Iraq is some sort of democracy showroom, and that the events of June '09 are the Iranians just itchin' to buy is deeply self-serving, especially on the part of those who cheerleading led us there in the first place.

Geopolitics as dominoes- Stupid then (RIP McNamara), Stupid now.
And of course there's always the leftist who can't put together a thought without profanity, like the commenter blahblahblah, who's so jaded, so cool to it all, so above it, so blithely unbothered that he/she actually comments as if thinking in poems; obscene poems to be sure, but poems nonetheless:
Every f****** Iranian you know
believed in the lie that was Moussavi's lie
which he enunciated at a press conference before the g**d*** returns came in
when he declared that he was the winner of the election,
when in fact every lucid fact and number
before and after the election nationwide spoke otherwise.
So why the f*** should I care about your f***** friends,
when you've all become just a bunch of wishful thinking lying b******.

Give me change or a revolution based on the f****** truth
and not the hopeful lies with which you peddle so dearly hateful sir.
Good f****** grief.
I'll leave out the obscenity, since it's just not needed: Good grief.