May 12th 2009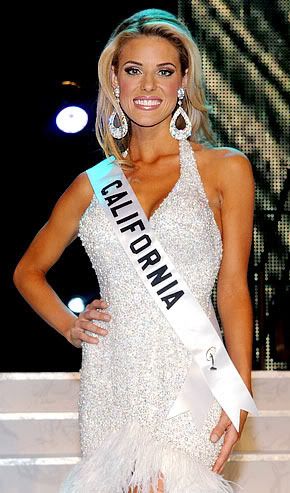 S
o it's a mixed message from Donald Trump this morning:  Carrie Prejean can keep her Miss California crown despite speaking her mind on gay marriage … and also despite posing for photos wearing nothing but wee bits of underwear while a teen.
Trump, then, came down on the side of true free speech in realizing that reflecting the views of a majority of Americans – even if they are reprehensible to Hollywood and the radical gay lobby – is not grounds for losing a beauty pageant crown. Let's hope that was an easy decision for him; it certainly should have been.
The second part of the decision – dealing with the photos – is more problematic.  It would be nice if beauty queens and the girls that for whatever reasons see them as role models could look upon nude and semi-nude modeling as a categorical non-starter, and stripping (to use the word) Prejean of her crown for the photos would have sent that meessage.  But Trump recoginzed that in this liberal era, he could hardly recognize her real First Amendment rights (speech) and deny her phony First Amendment rights (expressing herself by posing without much on).
Tweeter pinkelephantpun passed along this re-tweet today, which pretty much sums up the left's viewpoint of the matter:
RT @BiasedGirl Tolerant Lib of the Day: RT @ian_roberson: I really hate Miss California, I hope that bitch loses her crown and goes to hell!
Shall we discuss the relative prospects for Hell-going?