July 8th 2009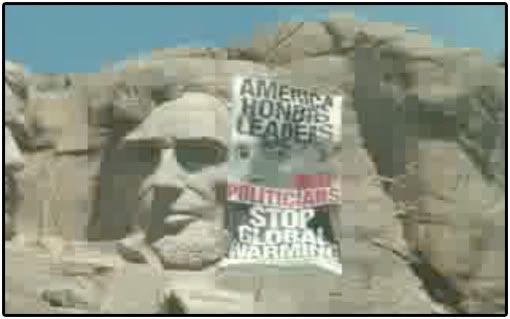 T
hree of America's greatest presidents – no way am I counting Teddy Roosevelt in that group [thanks, Coop!] – were dishonored by Greenpeace today when the group defaced Mt. Rushmore with a banner portraying FDR wannabe Barack Obama.  The message is ludicrous:  "America Honors Leaders, Not Politicians. Stop Global Warming."
The banner seems to imply that Washington, Jefferson and Lincoln were not leaders.  The Greenpeace idiots should be very, very glad we have First Amendment rights in this country.  I won't dispute that Obama's a leader; it's just a disagreement with Greenpeace over the way he's leading us.  I don't believe "honor" should be ascribed to a person who is leading America towards socialism and economic ruin.
And as for stopping global warming, pshaw.  All Obama's policies will do is make everything more expensive; they will do nothing to significantly alter the atmosphere or the globe's climate.  His "leadership" on cap and tax is better described as "ruinship."
Posted in Cap and trade, Energy Policy, Global warming, Greenpeace, Obama | 4 Comments » | |
Trackbacks/Pings
Comments

Coop


A small note – FDR is not on Mount Rushmore – It's Teddy Roosevelt – acording to the National park service siste at http://www.nps.gov/moru/  The presidents are
Washington, Jefferson, T. Roosevelt, Lincoln

daniel kessler


The banner message is meant to convey that the presidents on the monument were more than politicians–they were leaders. It's meant to implore Obama to do the same, not to say that Washington, Jefferson, Roosevelt, and Lincoln were not leaders. Did you even read anything about the event before posting?

Laer


Let me make it a bit more clear for you, Daniel. Putting Obama's mug next to Washington, Jefferson and Lincoln demeans Washington, Jefferson and Lincoln. Not because he's black, but because he is counter to the foundational soul of America – freedom, small government, free markets.

ID#!


Did you see my tweet on this dad? I said it's a real shame they didn't fall off while trying to hang the sign. I RT'd CNN, I hope someone over there got a laugh.
Leave a Reply
[The "Comment Box" is WYSIWYG except that you have to double space between paragraphs!
Type it the way you want it to look -- Just remember to double up those line spaces.]
You must be logged in to post a comment.