July 1st 2009
It should come as a surprise to no one with blood flowing through their cortex, but Pres. Obama is not exactly running the "paragon of transparency" presidency he promised during the campaign. What? A broken Obama-promise? I know, it's a shocker, but read on.
Do you recall The One's promise to use the Internet to open up government process to the public's eye? You know, the one under which we promised us all bills would be posted on line for at least 48 hours before a vote? >cough!< Waxman-Markey! Yeah, well it gets worse. Today, the Goebbels acolytes in the Obama admin have unveiled USASpending.gov, which books itself as "Where Americans can see where their money goes."
And here's what we learn: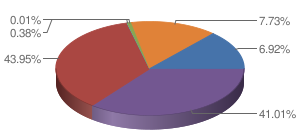 Here's how the pie breaks down (sorry – transferring the legend slows down page loads):
The purple slice is "Contracts," at $221,177,641,981.  I believe that's what everyone else calls "entitlements."
"Grants," in rust, is the biggest slice, at $237,027,203,718. Who knows what they've thrown in that bucket.
The light blue slice, at $63,771,782, is "Loans."  None of which have come my way.
The little pea green sliver is "Insurance," at $2,062,647,048.
And rounding out the pie is orange, "Direct Payments," at $41,687,210,164
Not getting its own slice but showing up in the legend is $37,345,915,842, which is simply termed "Other Assistance." Don't ask what other assistance; it's just $37.3 trillion. Don't worry.
What's missing?  Hint: Without it, all this is FREEEE!
That's right, Pres. Transparency has shown us where government's money goes without including those four black magic [Can I say black magic?] letters D-E-B-T.  If Americans really want to see where their money goes, this cute little pie chart is as meaningless as any other Obama-promise.  All obfuscation, no substance.
What we have instead is a list that appeals only to the takers and ignores the givers, the payers.  USASpending.gov should be renamed SuckingOffThePublicTeat.gov or GimmeGimmeGimme.gov. It's a list that depicts America as Obama wants America to see itself – wholly dependent on the government without giving anythought to the terrible cost of that dependence.  Just stick the needle in your arm and shut up.
Welcome to the Obama years.
Posted in Obama Drama | 2 Comments » | |
Trackbacks/Pings
Comments

Ryan Kuiper


Not one of your best ones. It lacked intelligence for one. It also ommitted the fact that this idea of an online "public to government" information stream has never been done before and that most of those off topic rants was more of an instrument used to heave cheap-shots at the administration. Once you push aside the cloudy murk of ignorance that you seem to hold on this subject, the real world will be waiting…You never had a loan? No student loans?Nothing? Well my friend I suggest you start at the grassroots level before you start talking about the big boys. Im 23 and I come from a financially stable household, even I know the basic fundamentals of learning where you didnt come and what you didnt learn before writing on or even speaking on. Granted I dont know your past and I apologize if I misspoke but you seem to be one of those idealist who think that oppurtunity in America is distributed equally. I have faith you are smarter than that.-RK

Laer


So you're OK with not including debt in what Obama spends tax money on? That really constitutes transparency to you?

As a 23-year-old, the sooner you learn to admit when your side makes mistakes and no longer blindly defend it, the better off you'll be.  I criticized Bush for his failure to communicate well and his departure from conservative fiscal principles. I acknowledge that opposing gay marriage isn't "fair," but also see that there are more important things than fairness.

So go ahead, Ryan, admit that this Obama PR Web site is less than ideal. Demand more from the man you voted for; don't settle for mediocrity and deceit from any politician, ever.  You deserve better.

Also, Ryan, it would serve you well to mature and actually address the issues instead of using personal attacks against individuals you have never met and don't know.  (As in "the cloudy murk of ignorance that you seem to hold.")  Issues, man, not insults! That's the difference between brutes and intellectuals.
Leave a Reply
[The "Comment Box" is WYSIWYG except that you have to double space between paragraphs!
Type it the way you want it to look -- Just remember to double up those line spaces.]
You must be logged in to post a comment.