July 1st 2009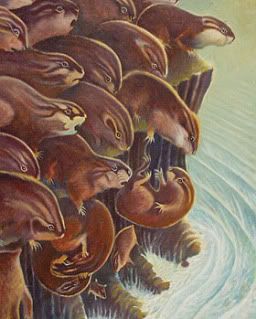 O
K, gang, let's start prepping for the Senate showdown and, hopefully, the crashing and oh- so- carbon- emitting burning of the cap and tax lunacy.  Let's start in a chilly place that by rights should be one of the leading proponents of global warming.  Lord knows, the weather certainly could stand to get a wee bit warmer in Scotland.
But for reasons unfathomable by rational minds, Scotland has decided its proper role as a nation is to lead the lemmings off the global warming cliff.  It hails itself, claiming it has the world's most ambitious greenhouse gas emissions reductions goals – a 42 percent reduction by 2020 and a mind-numbingly stupid 80 percent slash by 2050. Just listen to Scotland's Climate Minister (Climate Minister?! He should be filed on the spot! Have you seen Scotland's climate? Disgusting!) says about it all:
Scotland can be proud of this bill, the most ambitious and comprehensive piece of climate change legislation anywhere in the world. As a country, we are leading global action and expect others to follow our lead as we look to the international summit in Copenhagen this December.
I bet it's going to be bone-chillingly cold in Copenhagen this December – big global warming confab or not.
I bring all this up because in Scotland's goals we see what's ahead for a cap and tax America.
Get ready for hefty fines if your household doesn't do its part. And heftier fines if your business doesn't. That's now the rule in Scotland.
Prepare yourself for the Greenshirts busting into your house in search of plastic bags, or forcing your corporation to drop its theft-resistant packaging for something more easy to steal. OK, they're not yet breaking down doors in Scotland, but they are attacking plastic bags as heinous, anti-social tools of destruction, only slightly more acceptable than the dreaded product packaging.
To incentivize thrifty Scots to part with some of their cash to reduce their carbon footprints, the Scotish Parliament has approved a 50 pound reduction in a local tax.  That sounds exactly like Obama thinking.  Everyone who pitches in to save the planet gets a tax cut.  Never mind that you'll spend a 500, or 1,000 or 10,000 pounds to insulate your quaint cottage or install solar – that 50-pound tax cut is exactly the sort of great incentive a big government control freak would come up with. And we have more than a few of those in DC.
Not all the Scots are buying it, of course.  Here's university prof Dr. James Buckee attempting too late to interject some rationality into all this:
"As far as reducing emissions by 80 per cent, banning the internal combustion engine, and coal-fired power stations from Scotland would not get close to doing it. This is clearly unobtainable.

"More energy has been expended on finding ways to infringe on human activity than has gone into understanding the science."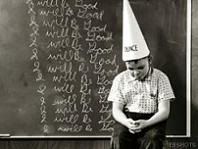 Heh.  Loved that.  And speaking of understanding the science, there was one heck of an article in Forbes the other day, Waxman-Markey Flunks the Math.  Math is the base of all science, so that's bad news for the Warmies. Here we go with the basics:
In the U.S., electricity is produced from these sources. If you are reading this on a handheld and can't read Wikipedia's wonderful pie chart, here is the breakdown:

48.9% — Coal
20% — Natural Gas
19.3% — Nuclear
1.6% — Petroleum

Got that? A tick over 88% of U.S. electricity comes from three sources: coal, gas and nuclear. Petroleum brings the contribution of so-called "evil" energy–that is, energy that is carbon- or uranium-based–to almost 90%.

The remaining sources of U.S. electricity, the renewables, are, by comparison, tiny players:

7.1% — Hydroelectric
2.4% — Other Renewables
0.7% — Other

Hydroelectric accounts for 70% of renewable energy in America. But, of course, hydro is mostly tapped out. Almost every dam that could be built has been built. Ironically enough, political opposition to building more dams comes from the same crowd of tree huggers who oppose coal, gas and uranium.
Waxman-Markey is all about punitively taxing the energy sources that make up 90 percent of our electrical generation, in order to subsidize the 10 percent that's renewable.  Well, really 3 percent if you don't count hydroelectric generation, which isn't targeted for big Waxman-Markey subsidies. The author then reveals what the bill is all about; not stopping global warming, but good ol' politics as usual:
In other words, Waxman-Markey is betting the future of U.S. electricity production on sources that now contribute 3% or supply 10 million Americans with electricity. That's enough juice for the people in Waxman's Los Angeles County. Or, if you prefer, for Nancy Pelosi's metro San Francisco plus Markey's metro Boston.

Well, what about electricity for the other 295 million? You can't get there from here with Waxman-Markey. At very best, solar, wind and cellulosic ethanol will make 20% contributions by 2025. The smart money would bet on 10%.
Besides, those nasty ol' Devil fuels are doing very well on the technology front, advancing at a clip that rivals or surpasses gains made in alternative energy.  Engines are cleaner and more efficient, fuels burn hotter and cleaner, and extraction and processing technologies are greener than ever.
There simply is no reason for Waxman-Markey … except for power-grabbing and money-sucking.  But there is a great alternative, an absolutely brilliant alternative, promoted today by Doug Ross:
We start with the most useless government agencies we can find. The Department of Education, the Department of Agriculture, The Department of Health and Human Services, The Department of Housing and Urban Development, the Department of Labor, the Environmental Protection Agency, the FCC and Amtrak. For the sake of argument, let's say that together, they consume $250 billion a year.

Congress' job? They would be required to cut spending for these ridiculous bureaucracies according to the following schedule (which I had a lot of fun creating — all numbers in billions).

2012 – $250
2013 – $210
2014 – $190
2015 – $160
2016  – $140
2017 – $120
2018 – $110
2019 – $100
2020 – $90
2021 – $75
2022 – $60
2023 – $50

Pay-cuts? Layoffs? Closing unnecessary facilities? Who gives a crap? That's for them to figure out.

How do you like Cap-and-trade now, Democrats?
Posted in Alternative Energy, Democrats, Energy Policy, Environmentalism, Global warming, Uncategorized | 3 Comments » | |
Trackbacks/Pings
Comments

kelley in virginia


this is a great blog.  i just found it, but it is bookmarked.  just great.  thanks.  keep up the good work.

Bill in Detroit


Hey … you left out the Dept. of Hopeless Security!
Homeland? Bah, humbug. "New Speak"!

Lane in Redlands


Laer, I just found your blog today while I was researching Waxman-Markey and the 1993 BTU tax. Count me as a fan!

You wrote, "Prepare yourself for the Greenshirts busting into your house in search of plastic bags, or forcing your corporation to drop its theft-resistant packaging for something more easy to steal. OK, they're not yet breaking down doors in Scotland, but they are attacking plastic bags as heinous, anti-social tools of destruction, only slightly more acceptable than the dreaded product packaging."

Did you know that California has its own plastic bag laws? The city council of my Inland Empire city of Redlands has already voted to support it.  AB 87 and AB 68 (I don't know why there are two, they seem very similar) take effect on July 1, 2010 and say (in part), "…On and after July 1, 2010, a store shall not provide a single-use carryout bag, including a green carryout bag, to a customer at the point of sale, unless the store charges the customer not less than twenty-five cents ($0.25) per bag." Of course the bill says lots more–there's a whole bureaucracy to support and enforce this and of course, collect fees. Bottom line, it is a new tax for all Californians at the grocery store–25 cents per bag. But of course, if you are on welfare or use food stamps, you are exempt.
 
The Wall Street Journal had a good article in June of this year about this worldwide bag scourge: http://online.wsj.com/article/SB124473522987806581.html
 
I'll be back!
Leave a Reply
[The "Comment Box" is WYSIWYG except that you have to double space between paragraphs!
Type it the way you want it to look -- Just remember to double up those line spaces.]
You must be logged in to post a comment.