June 26th 2009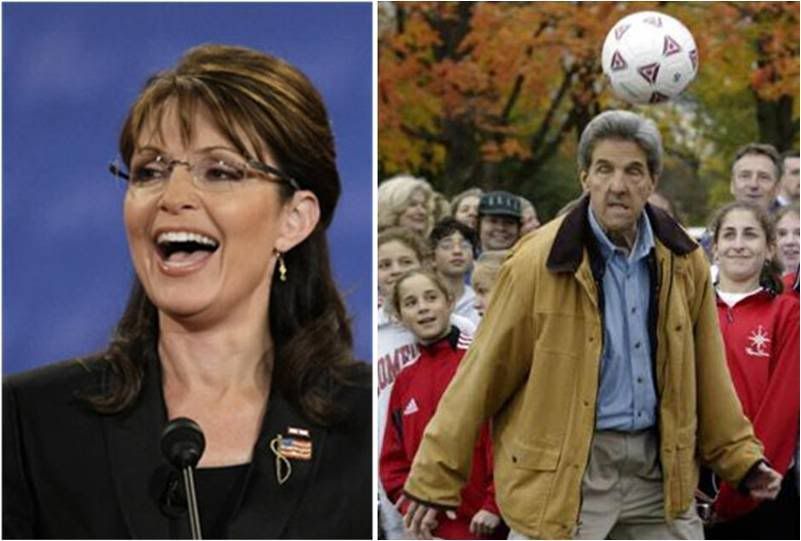 T
he token Dem was "unsurprised to mildly happy" (which I read as "miffed") over  Sarah Palin daring to make a joke at the expense of John Kerry's "long face," but didn't seem to be bothered that Kerry's earlier crack wishing it had been she, not Mark Sanford, who went missing was unprovoked and clumsily tied Palin to dereliction of duty and infidelity.
He says I've mischaracterized this position, and for brevity's sake I'll just say Wah! Wah! Wah! that I have.  This post isn't about that.  It's about media bias and it all started when the Token Dem sent me the CNN news clip below, saying it showed that Palin was "just cementing her 'mean-girl cheerleader' image."
I actually chuckled at the nasty tenor of the crack, even if I didn't agree with it, but I didn't much care for the clip:
(CNN) She's visiting troops on a peacekeeping mission, but Sarah Palin signaled Friday she's ready to go to battle with John Kerry, who reportedly made a joke earlier this week at her expense.

The Boston Herald reported that on Wednesday, before South Carolina Gov. Mark Sanford's exact whereabouts were widely known, the Massachusetts senator mused to reporters the wrong elected official had dropped out of sight.

"Too bad if a governor had to go missing it couldn't have been the governor of Alaska," he said, according to the paper. "You know, Sarah Palin."

Palin herself, speaking to U.S. troops in Kosovo, responded Friday with a shot aimed straight for the face — literally.

"Then Sen. John Kerry makes this joke, I don't know if you saw this, but he makes this joke saying, 'Aw shoot, of all the governors in the nation who disappeared, too bad it couldn't have been that governor from Alaska…'" she said.

"But the way he said it, he looked quite frustrated, and he looked so sad, and I just wanted to reach out to the TV and say, 'John Kerry, why the long face?'"

Palin is overseas visiting Alaska National Guard troops on a peacekeeping mission.
What's missing that keeps this report from being an objective recounting of the Cute Face/Long Face tiff? Why, the troops' response, of course. Give it a listen:
Would it have been that hard for the reporter to mention that the troops cheered – or even that they cheered wildly – at her joke?  Answer:  While it would have required just typing a few words, yes, it would have been very, very hard for the reporter to do anything that might tilt the advantage towards Palin.
It was not hard, of course, for the reporter writing the Boston Herald recounting of Kerry's original joke to include the line, "The democratic-centric crowd laughed."
Posted in CNN, Kerry, Media bias | No Comments yet » | |
Leave a Reply
[The "Comment Box" is WYSIWYG except that you have to double space between paragraphs!
Type it the way you want it to look -- Just remember to double up those line spaces.]
You must be logged in to post a comment.