June 26th 2009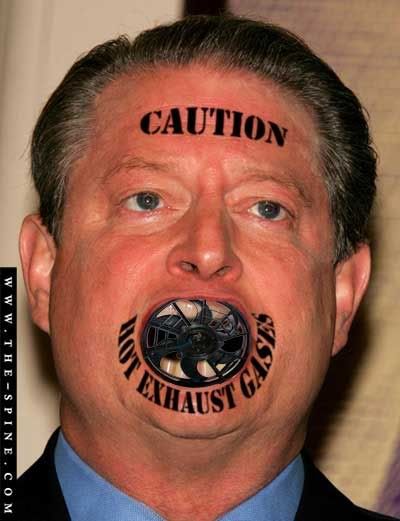 R
emember the BTU Tax?  I didn't, which caused me to make a mistake in my post yesterday, when I made this comment in response to this, from Obama's Rose Garden shill for the Waxman-Markey energy tax, "We have been talking about this issue for decades, now is the time to finally act."  I said:
"We've been talking about carbon taxes for decades?!"  Where does he get this stuff? How dumb does he think we are?  If you stretch the timeline rather aggressively, pressure to tax carbon began within the last ten years, and even then it was promoted only by a small group of whackos.
I forgot one particular whacko, Al Gore, who in 1993 – decades ago – tried to move a tax on energy – British Thermal Units, or BTUs,  through Congress.  Mea culpa.
Matt Dempsey, a GOP staffer at the Senate Energy & Public Works Committee brought me back into the light:
As the House prepares to vote on the largest tax increase in American history, otherwise known as the Waxman-Markey bill, and as President Obama tries to persuade his House allies to vote for same, EPW Policy Beat took another trip down memory lane.  We landed in 1993 as the House was voting on the Al-Gore-backed BTU tax.  As we and others have stated before, the historical and political parallels between the BTU tax and Waxman-Markey are striking: members fearful that voting for an energy tax would have political repercussions at the ballot box; members fearful of voting for a bill that would then die in the Senate; members fearful that an energy tax would be regressive, harm consumers, destroy jobs and slow economic growth; members fearful of a man named Gore pushing an energy rationing scheme that harms the heartland; and Democratic congressional leaders and Administration officials (read: Gore) desperately searching for exemptions and last-minute deals to shore up support.  As the proverb goes, "the more things change, the more they stay the same."
As you know, because "we have been talking about this issue for decades," the BTU tax did fail, as Clinton dropped the bill in the Senate, when it became clear it didn't have enough Democratic support there. Many of the Dems who voted for it in the House found themselves scrambling to defend their votes, and many could not, losing their seats. And America was spared having to commit forced economic suicide at the hand of a radical environmentalist politician.
We don't have to go back to 1993 for lessons on how bad Waxman-Markey is; we need only visit Spain today. As George Will pointed out in his column yesterday:
[Gabriel] Calzada, 36, an economics professor at Universidad Rey Juan Carlos, has produced a report that, if true, is inconvenient for the Obama administration's green agenda, and for some budget assumptions that are dependent upon it.

Calzada says Spain's torrential spending — no other nation has so aggressively supported production of electricity from renewable sources — on wind farms and other forms of alternative energy has indeed created jobs. But Calzada's report concludes that they often are temporary and have received $752,000 to $800,000 each in subsidies — wind industry jobs cost even more, $1.4 million each. And each new job entails the loss of 2.2 other jobs that are either lost or not created in other industries because of the political allocation — sub-optimum in terms of economic efficiency — of capital. (European media regularly report "eco-corruption" leaving a "footprint of sleaze" — gaming the subsidy systems, profiteering from land sales for wind farms, etc.) Calzada says the creation of jobs in alternative energy has subtracted about 110,000 jobs elsewhere in Spain's economy.
A GOP study found the same thing here in the U.S. – green jobs aren't particularly high-paying, but require an average government subsidy of $100,000.
I attempted to engage some green-tinted lefties in a meaningful conversation on the topic yesterday on a  New Mexico political blog (I got there via a Twitter link, if you're curious). I response to a guest column plea for a yes vote on Waxman-Markey, I wrote:
Ask yourself, which is melting faster, the ice caps or the economy? Hint: It's the latter by far, and spiking all energy costs in at least the short- to mid-term will only deepen and lengthen the recession.

As for all those new clean energy jobs, you cannot count the jobs Waxman-Markey supposedly will open up unless you also count the jobs it will destroy in oil, gas and related sectors of the economy, where several million are employed.

Out of work New Mexicans will suffer through higher costs long before they get the benefit of any new green jobs, I'm afraid. Call your representatives and ask them to vote NO on Waxman-Markey.
That spawned a raft of responses, mostly negative, including one saying I sounded like an oil industry propagandist. I challenged them to find anything wrong with anything I said, but they didn't even try.  Instead, they waxed on about all the jobs Waxman-Markey, or ACES as they refer to it lovingly, will create.  As I understand their argument it goes like this:
We would feel really good if we could get jobs in the green industry because the world is like dying, you know, and we're so excited about it, we'd like everyone to pay more money for everything in order for us to get those jobs.
That's what we're up against folks: Ignorant self-interest.  And ignorant self-interest is what they're really talking about when they say "money," as in "money makes the world go 'round."
Posted in Alternative Energy, Democrats, Energy Policy, Environmentalism | No Comments yet » | |
Leave a Reply
[The "Comment Box" is WYSIWYG except that you have to double space between paragraphs!
Type it the way you want it to look -- Just remember to double up those line spaces.]
You must be logged in to post a comment.