June 24th 2009
I
n much of the US, this has been the coldest June in a couple decades, yet the Dem/Eco cabal is trying to slam a massive, punative energy tax through Congress in the name of saving the planet from global warming. The Waxman-Markey carbon tax bill sped through the House without the intense committee review such a far-reaching and costly piece of legislation would normally review and now the 1,200-page bill is slated for floor debate and vote by the end of this week.
Here's the Heritage Foundation analysis. Read it and ask yourself, "Why are the Dems slamming this through with minimal debate?"
The current version does not weaken the stringent targets and timetables for reducing emissions of carbon dioxide from fossil fuels. They must decline by 3 percent in 2012, 17 percent by 2020, and 83 percent by 2050. Since fossil fuels comprise 85 percent of the nation's energy and there is no way to cheaply substitute for them, the targets amount to energy rationing. Prices for gasoline, electricity, and natural gas have to rise high enough so that individuals and businesses are forced to use less of them. Economic pain is how these ever-tightening targets are met.

The Heritage Foundation estimates electricity costs rising by 90 percent by 2035, gasoline by 58 percent, and natural gas by 55 percent. A household of four can expect to pay $1,241 more for energy annually by that year. And since higher energy costs raise the price of everything else, the total impact of this energy tax would reach nearly $3,000 per household per year from 2012-2035. Total gross domestic product losses average $383 billion annually from 2012-2035 and would total $9.4 trillion dollars.
Oh, but that's not what Obama is focused on, no sir.  He knows the new and improved talking points, as Matt Dempsey from Sen. Inhoff's staff points out:
Don't say "climate change" or "global warming," or even worse, "cap-and-trade," anymore; use "clean energy economy." As the New York Times and LA Times have recently reported, the White House, concerned by the lack of support for their "cap-and-trade" initiatives, is using poll-tested talking points to help push one of the President's biggest priorities:

"The problem with global warming, some environmentalists believe, is 'global warming.' The term turns people off, fostering images of shaggy-haired liberals, economic sacrifice and complex scientific disputes, according to extensive polling and focus group sessions conducted by ecoAmerica, a nonprofit environmental marketing and messaging firm in Washington."  – New York Times, May 2, 2009

"Scratch 'cap and trade' and 'global warming,' Democratic pollsters tell Obama. They're ineffective…Control the language, politicians know, and you stand a better chance of controlling the debate. So the Obama administration, in its push to enact sweeping energy and healthcare policies, has begun refining the phrases it uses in an effort to shape public opinion. Words that have been vetted in focus groups and polls are seeping into the White House lexicon, while others considered too scary or confounding are falling away." – LA Times, May 11, 2009
In reviewing the transcript from President Obama's press conference [yesterday], it looks like the President has nailed his new talking points:

"Now the second issue I want to address is our ongoing effort to build a clean energy economy. This week, the House of Representatives is moving ahead on historic legislation that will transform the way we produce and use energy in America. This legislation will spark a clean energy transformation that will reduce our dependence on foreign oil and confront the carbon pollution that threatens our planet. …

These incentives will finally make clean energy the profitable kind of energy.

And that will lead to the development of new technologies that lead to new industries that could create millions of new jobs in America — jobs that can't be shipped overseas.

At a time of great fiscal challenges, this legislation is paid for by the polluters who currently emit the dangerous carbon emissions that contaminate the water we drink and pollute the air that we breathe. It also provides assistance to businesses and communities as they make the gradual transition to clean-energy technologies. …

We all know why this is so important. The nation that leads in the creation of a clean-energy economy will be the nation that leads the 21st century's global economy. That's what this legislation seeks to achieve. It's a bill that will open the door to a better future for this nation, and that's why I urge members of Congress to come together and pass it."
There he goes again, looking for the magic words that that will make us fawn over the brilliance of what he's doing.  But we know better. We see Waxman-Markey for what it is - global warming cap-and-trade legislation, a monstrous new energy tax on American businesses and families, a job-destoyer and a competitiveness-killer.
On the last point, competitiveness, the Institute for 21st Century Energy and U.S. Chamber make a compelling argument in their white paper, Taxing Our Way to Energy Insecurity Again.  It points out that the Congressional Research Service found that a similar energy tax, the Windfall Profits Tax, led to as much as an 8% decline in domestic energy production and as much as a 13% increase in imports, because it raised the cost of domestic energy.  Waxman-Markey will do exactly the same thing – despite all the president's fine talk about greater energy independence:
Now, two decades after the demise of the WPT, the new administration has included proposals of a similar nature in its FY 2010 budget proposed to Congress last month. To finance record high spending for administration priorities, the budget aims to impose new taxes that again will raise the costs of producing domestic oil and natural gas and place U.S. businesses at a disadvantage with foreign government-owned oil and gas companies. This budget proposal would creates new taxes and fees, while repealing several long-standing tax rules for companies that incur significant economic risk in exploring for oil and natural gas without any guarantee of profitable recovery.

The elimination of these tax rules is not about "closing loopholes" as some have suggested. These provisions were specifically crafted by Congress to create and preserve American jobs and to increase the country's energy security by supporting greater domestic production. Similar tax rules, not proposed for elimination, apply to other industries. Thus, these new tax changes disproportionately target one industry simply to finance increased federal spending.
For all the negative impacts of the WPT, the promised revenues were only 20 percent of what Congress promised when enacting the legislation.  Isn't that always the case – they promise less impact and more revenues, but get exactly the opposite.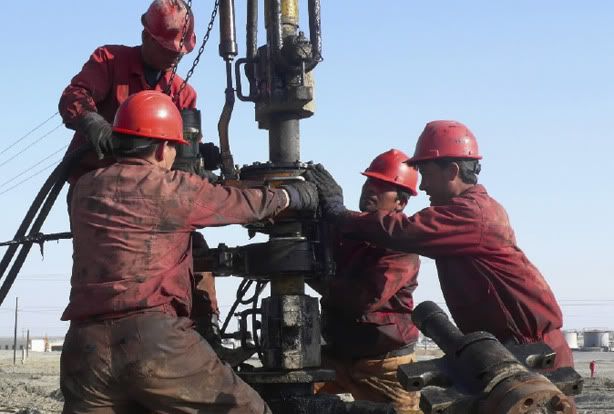 Waxman-Markey's taxes on domestic production to fund Obama's welfare agenda will force up oil imports:
To remain competitive, domestic producers will be forced to bear the additional costs of production caused by new taxes and fees, thereby creating an inherent disincentive for them to increase production of domestic oil and gas resources, and in some cases even creating a disincentive for them to maintain existing production levels. Absent a significant drop in demand, the only way to meet the resulting supply gap this will create is to import more oil. Today we import about 60% of the oil consumed in the United States, and history has proven increased taxes will only serve to increase that percentage.
The disincentivizing of exploration is exactly what Waxman-Markey sets out to do; it just doesn't acknowledge that America still needs oil and gas, so if can't produce it competitively here, we will get it competitively elsewhere.  But, of course, knocking down US production will only drive up foreign prices and the net effect will more than wipe out any "middle class tax cut" promised by the president. Says the American Petroleum Institute's Jack Gerard:
This [legislation] places a disproportionate burden on all consumers of gasoline, diesel fuel, heating oil, jet fuel, propane and other petroleum products. If you drive, fly, take the bus or the train, your costs are going up."
That would be all of us … who work.  Add to that if you buy food, products or services, your costs are going up, then you begin to see the all-sector impact this legislation, so bereft of probing public review, will have.
In a letter to Congress, Gerard notes that the oil and gas industry currently funds 44 percent of the national investment in alternative energy – investments that would be limited by the impact of higher energy taxes on profitability.  Profits, not sales, fund R&D.  He concludes by begging Congress to be rational and mindful:
At a time when we can least afford it, these provisions and others have the effect of driving up energy costs, creating a competitive disadvantage for American business, and imperiling thousands, if not millions, of jobs.  These jobs and their economic productivity should not be jeopardized.

Given the scope and breadth of the Waxman-Markey bill, the House should take the time necessary to get this legislation right. It is too important to be pushed by an arbitrary deadline. Jobs and the health of the American economy depend on a more balanced approach.
Unfortunately, getting legislation right and taking time to seek balance is nowhere on the agenda of Obama and the Democratic leadership in Congress.  They have shown almost daily since January 20 that they intend to scream "FIRE!" and rush legislation pell-mell towards the exits. They seem to know that in 2010 they will lose their all-powerful majority, and have elected to go ahead and lose it in the name of driving to change America – an America that up until now has been the driving force of the global economy and the global beacon of liberty.
If the Dems succeed in pushing through this legislation without major modification, it won't be the same America.
Posted in Uncategorized | No Comments yet » | |
Leave a Reply
[The "Comment Box" is WYSIWYG except that you have to double space between paragraphs!
Type it the way you want it to look -- Just remember to double up those line spaces.]
You must be logged in to post a comment.