June 24th 2009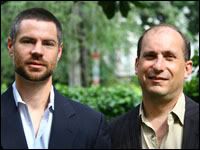 M
ichael Shellenberger and Ted Nordhaus met while trying to save redwoods. Their Breakthrough Institute is funded by the leftist Nathan Cummings Foundation – but they understand who wrong Waxman-Markey is, and they've got a pretty good idea about how to encourage new energy technologies without destroying the good old economy.
In an NPR interview, they lay it out:
"When was the last time human beings modernized our energy sources by making older power sources more expensive?" [Shellenberger] asks …. "And, of course, by now you probably know that the answer is never."

Personal computers didn't take off because there was a tax on typewriters, he says. And the Internet didn't sprout up because the government made telegraphs more expensive.

"So is there a better way to do this? Well, we think that there is. It's very simple: It's that we need to make clean energy cheap worldwide."
Shellenberger and Nordhaus support government investments in alternative energy – a new Manhattan or moon project, which is hardly a new idea, but they articulate their well-researched points well.
Shellenberger tells the [Institute's] interns that environmental groups — like the ones he used to work for — are going about it all wrong. By urging Congress to cast carbon dioxide as a pollutant that needs to be controlled, he says, they will constantly swim against the tide of public opinion.

"We're stuck in this kind of poor paradigm for dealing with climate change, this pollution paradigm," he says, "not because environmentalists are failures, but actually because they were so successful. The Clean Water Act, the Clean Air Act, the cap and trade on acid rain — these things worked really well."
How refreshing to hear an environmentalist actually acknowledge that things are getting better, not worse – that existing levels of regulation have accomplished their goals.  I'm a free market guy, but even so, I have to acknowledge that government investment in technology works – it's government control of the market and stomping on competition that I don't like.  They explain the benefits of public investment:
"There's this idea that the government shouldn't be involved in technology, the government shouldn't be picking winners and losers," Shellenberger says. "Which is sort of a funny thing to say. It's kind of like, well, why not? And when hasn't the United States government been involved in picking technology winners and losers?"

He points to the computer industry as just one example of something that came into being because of deliberate federal investments.
And railroads. And rockets.
Of course, the hotheads are screaming that there's not enough time, we have to act now, the world is melting and carbon dioxide is a terrible poison. These are largely the same people who condemned Bush's "rush to war."  Unfortunately, Waxman and Markey are staunchly set in the camp of the hysterics.  Shellenberger and Nordhaus have been in DC this week, trying to get more reasonable electeds to behave more reasonably.
I hope they succeed.  You can help.  Sign the petition.
Posted in Alternative Energy, Democrats, Energy Policy, Environmentalism | No Comments yet » | |
Leave a Reply
[The "Comment Box" is WYSIWYG except that you have to double space between paragraphs!
Type it the way you want it to look -- Just remember to double up those line spaces.]
You must be logged in to post a comment.