June 30th 2009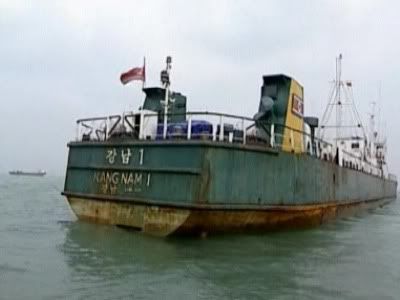 N
ews reports from the Pacific reveal that the Kana Nam, Li'l Kim's mystery ship that many thought was on its way to Myanmar Burma with lots of tools of repression, has turned around and is headed back to the Glorious People's Paradise.
The 7th Fleet continues to follow the Kang Nam and is likely now to provide it with a hostile escort all the way back to the edge of NoKo waters.  The ship's cargo remains a mystery, especially now that it appears it may not visit any foreign ports.  Were it to tie up somewhere, we could request that nation search the vessel, and they likely would.  As long as the Kang Nam is at sea, it's not likely to be searched.
One troubling thought:  Li'l Kim has learned that every time he sends the Kang Nam out, some 7th Fleet assets will be tasked with following it.  That's something he might use to tactical advantage at some time.
Whatever.  Any fleeting tactical edge NoKo might gain is readily crushable … so long as we have a president who understands "big stick," and not just "speak softly."