May 11th 2009
T
hat's not a typo in the headline – it's the greenhouse gag, not generic greenhouse gas, because the depravity of declaring the fourth most common element in the universer, carbon, a pollutant and carbon dioxide, the byproduct of human breathing, something needing regulating is coming home to roost.  Like an 800-pound chicken.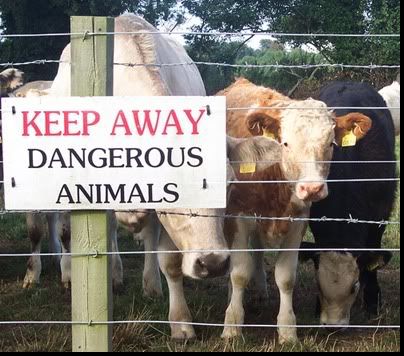 In her confirmation hearing, EPA Director of Air and Radiation nominee Regina McCarthy put an end to EPA Director Lisa Jackson's curt dismissal of concerns by manufacturers and chambers of commerce that EPA was poised to impose greenhouse gas regs on small business.  "It is a myth … EPA will regulate cows, Dunkin Donuts, Pizza Huts, your lawnmower and baby bottles," Jackson said, according the the WSJ, the primary source for this post.
McCarthy countered her boss, telling lawmakers that litigation could force her office to draft emission rules for small emitters like hospitals, schools and farms.  And, true to form, the Center for Biological Depravity Diversity promptly piped up with Kassie Siegel, its climate warmonger director of the CBD's Climate Law Institute, saying she is poised to sue for regulation of smaller emitters if the EPA stops at simply large emitters.
The administration is now set to regulate only about 13,000 large emitters, including refiners, smelters and cement plants. The position seems radical next to Siegel's stand, but when you consider that refiners, smelters and cement plants are all backbones to our industrialized, mobile society, you'll understand that there's nothing moderate about Obama's position; it's no less extreme, only more efficient, than the CBD approach.
Sen. John Barrasso (R., Wyo.) has put a hold on Ms. McCarthy's nomination in part because of her responses on the greenhouse gas issue.  Barrasso wrote on the Heritage Foundation blog The Foundary (which could, I suppose, itself be regulated under the new regime),
Special interest groups around the country are scheming to sue the EPA to prosecute hospitals, farms, nursing homes, commercial buildings and any other small emitter of greenhouse gasses. These regulations are a dangerous loose cannon in the wrong hands.

When asked about potential lawsuits, Regina McCarthy, the Administration's nominee as Assistant Administrator of the EPA Office of Air and Radiation said that she will "request that I be informed if any such notice is filed with regard to a small source, and I will follow-up with the potential litigants."

The solution to this problem is not to have government officials go around asking litigants not to sue. That is not a solution and entirely unrealistic. I quite frankly expect more.

The only jobs this option will create are in law firms as the litigation bonanza begins.
In considering the economic impact of this lunacy, Barrasso cautions that the 1.2 million businesses that might fall under EPA regulation as a result of GHG emission controls would face something akin to the EPA's current pre-construction permit process, which the agency itself says costs each applicant $125,000 and 866 hours to obtain - and that was in 2007; I'm sure it's become more costly and less streamlined since then.
Do the math – that's $150 billion in new regulatory burdens and a billion hours of productivity down the drain.  If you're sill in school, go into environmental law – the guys who work on regs like these will be the only people making real money in Obamaland.  Meanwhile, our competitors presumably will have avoided this lunacy, making America even less competitive and more vulnerable to foreign business domination.
As all this insanity looms, Rasmussen reports that only about a third of Americans believe human activities are causing climate change, about 50 percent less than believe it is caused by global climatic cycles, so there is opportunity for the GOP to position itself as the party of sanity on climate issues – something McCain reused to do.
And for those who feel the system will have to be on the edge of collapse before we will be able to reign in runaway regulators should keep their eyes on the regulation of GHG emissions in all its ramifications.  This baby is setting up to be one spectactular, collossal train wreck.
Posted in Environmentalism, EPA, Global warming, Obama, Regulatory Madness | 1 Comment » | |
Trackbacks/Pings
Comments

J. Ewing


They don't need to regulate small sources, any costs they apply to power plants, concrete plants, etc., will automatically get passed down to EVERYBODY.  That's the danger here, that we're going to destroy our economy and kill people to solve a problem that doesn't exist, with a solution that cannot work.
Leave a Reply
[The "Comment Box" is WYSIWYG except that you have to double space between paragraphs!
Type it the way you want it to look -- Just remember to double up those line spaces.]
You must be logged in to post a comment.