January 9th 2009
I
n John 21, which takes place after the crucifixion and before the resurrection of Jesus, we're told the story of several of his disciples, who do what men do when confronted with a tragedy of earth-shaking proportions: They go fishing.  And as if Jesus being crucified was not bummer enough, there were no fish – empty nets from dusk 'til dawn.
But Jesus appeared before them and told them to cast their net on the other side of the boat and as they say in the Bible, behold, the net became so heavy with fish they could barely haul it in.
Nets full of fish. To be eaten.  By people. Jesus says so – not just here but also when he divided the fish to serve the multitudes.
Not that any of this matters to the people at PETA (which if memory serves stands for People Erroneously Traumatized over Animals).  Michelle Malkin set off a Twitter-storm this morning when she linked up this piece about about PETA's new campaign to rename fish "sea kittens" to discourage their consumption.  Quoting PETA:
People don't seem to like fish. They're slithery and slimy, and they have eyes on either side of their pointy little heads—which is weird, to say the least. Plus, the small ones nibble at your feet when you're swimming, and the big ones—well, the big ones will bite your face off if Jaws is anything to go by.

Of course, if you look at it another way, what all this really means is that fish need to fire their PR guy—stat. Whoever was in charge of creating a positive image for fish needs to go right back to working on the Britney Spears account and leave our scaly little friends alone. You've done enough damage, buddy. We've got it from here. And we're going to start by retiring the old name for good. When your name can also be used as a verb that means driving a hook through your head, it's time for a serious image makeover. And who could possibly want to put a hook through a sea kitten?
As a PR guy who stands for the ethical treatment of PR guys, I take great offense. We just promote the product, we don't design it. We can't do anything about slime or scales or biting faces off if the product is designed specifically to be slimy and scaly with a propensity for face-biting.  It's not bad PR that gets fish eaten, it's good-tasting fish flesh.
This is not the first time that fish have been recast as land animals.  Long before there were sea kittens, there was Chicken of the Sea – made famous by Steve Martin when he and Sara Jessica Parker shacked up at the ritzy El Pollo del Mar in LA Story.  That's a name that's got it right.  Fish are for eating, just like chicken (which are so tasty I suppose PETA would call them Farm Kittens).
But seriously for a moment here, PETA is particularly offensive because it extends moral relativism far past such timely issues as Israel vs. Hamas to state that we are morally equivalent to fish, slugs and microbes – worse even, less than equivalent.  Here's an example, taken from a cute but appalling book of fish stories on the PETA sea kitten site:
Sally is a sea kitten with an attitude.  While all other sea kittens are washing themselves or chasing balls of yarn, Sally is busy swimming upstream to see where life will take her next.

Unfortunately, years of watching her friends and family being hooked through the mouth and dragged into a harsh, alien world above have driven her mad with grief.

Bitter and insane, she spends her days plotting revenge against the land kittens who live such happy lives in comfortable homes, free from the terror of being eaten.
That's the entire kiddie story.  Its message – besides that fish are sentient, capable of fear, grief and anger – is that violence and terror are appropriate responses to the eating of animals.  That's the evil that lurks behind all the supposedly cute – but really quite awful – illustrations of sea kittens on the PETA site.
PETA has its Sally the sea kitten with an attitude, but here's a fish story I like more.
Billy went fishing.  His sharp hook snared quite a few of those scaly, slimy creatures, which he hauled up and threw into a bucket. Then he went home, cut off their heads, gutted them, scaled them, cooked them and ate them.  Yum!
Update: The Nose on your Face has chimed in: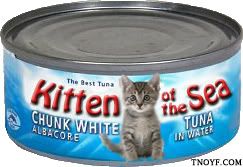 Posted in PETA | 4 Comments » | |
Trackbacks/Pings
Comments

hall monitor


This story made http://detentionslip.org !  Check it out for all the crazy headlines from our schools.

11B40


Greetings:Of course, PETA pays no attention to the likelihood that this may very well drive Jessica Simpson over the edge (and maybe Tony Romo, too).  Just when she used all her intellectual and psychological wherewithal to understand that "Chicken of the Sea" is not chicken but tunafish, PETA wants to start enforcing its "sea kitten" lingo.   The poor young woman never had a chance.

Laer


Poor baby! Too funny … thanks.

Digital Publius


You mean PETA doesn't stand for People Eating Tasty Animals? I thought it was a recipe exchange club. Ah Well. Don't get me wrong though; I have always loved animals… They're delicious. 
Leave a Reply
[The "Comment Box" is WYSIWYG except that you have to double space between paragraphs!
Type it the way you want it to look -- Just remember to double up those line spaces.]
You must be logged in to post a comment.