October 8th 2008
R
aila Odinga, the failed Communist candidate for president of Kenya who set of waves of genocidal ethnic violence after falling 200,000 votes short of winning, was educated in East Germany. He's the wealthy son of Kenya's former Communist Party leader. He named his own son after Fidel Castro. He opposes Kenya's participation in the War on Terror in order to secure the radical Muslim vote.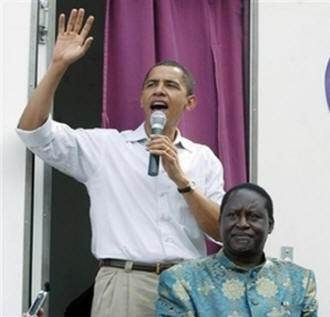 And he's good buddies – kin, even – with Barack Obama.
Kenya used to be a stable country, until Odinga decided that the presidential vote was crooked, and urged his tribe, i.e., those who voted for him, to take to the streets.  The result is all too familiar:  swinging machetes, innocents locked in churches and burned to death, murders in the streets, shops set afire.
Even after this violence broke out, Odinga encouraged more "takin' it to the streets," vowing to keep destroying Kenya until he got his way.  Thus far, Odinga is responsible for 1,500 deaths.  It sounds quite a lot like Bill Ayres, who so disliked the way America was going he turned to violence, not democracy, to change it.
(Granted, the election may well have been fraudulent, so Odinga's opponent, Mwai Kibaki, shares some of the blame.  But it was Odinga who called the people in the street to protest, rather than follow a more mature process.)
Odinga's links to Obama are numerous, starting at the tribal level; they are both of the Luo tribe, and Odinga claims to be Obama's uncle.  Obama, as you can see in the picture, has participated in rallies for Odinga, using taxpayer dollars in the process.
In supporting Odinga's run for president, Obama is supporting a man who signed a Memorandum of Understanding with leaders of Kenya's Muslim minority. Doug Ross provides material from Jack Wheeler's To The Point, which is for subscribers only:
…Raila has now made a deal for support from the Soviets' successors as world-champion enemies of the West and democratic freedoms: Muslim fundamentalists… The Evangelical Alliance of Kenya has posted on its website a photograph copy of a Memorandum of Understanding, dated and signed on August 29, 2007, between Raila Odinga and Shiekh Abdullah Abdi, chairman of the National Muslim Leaders Forum of Kenya…

It pledges the support of Kenyan Moslems for Raila's election. In return, as President of Kenya, Raila agrees to 14 actions, [including:] …

b) Within 6 months re-write the Constitution of Kenya to recognize Shariah as the only true law sanctioned by the Holy Quran for Muslim declared regions.

g) Within one year facilitate the establishment of a Shariah court in every Kenyan divisional headquarters. [Note: everywhere in Kenya, not just in "Muslim declared regions."] …

It gets worse. If you read through the agreement that Obama's friend signed with the National Muslim Leaders Forum, you'll find that Kenya is destined to turn into an African version of Talibanistan.

* "Popularize Islam, the only true religion… by ordering every primary school in Kenya in the regions to conduct daily Madrassa classes."
* "Impose a total ban on open-air gospel crusades by worshippers of the cross…"
* "Outlaw gospel programs… on KBC, the National Broadcaster."
* "Impose a total ban on the public consumption of alcoholic beverages…"
* "Impose an immediate ban on women's public dressing styles that are considered immoral and offensive to the Muslim faith…"
In return for the Muslims' support – or maybe just because he was raised by communists and educated by communists – Odinga has demanded that Kenya stop cooperating with the U.S. and international authorities on the War on Terror. Remember, this is Kenya, where in 1998 al-Qaeda bombed the U.S. embassy, killing 211 and injuring 4,000, most of them Kenyans.  At least nine of those implicated in the attack, including Osama bin Laden, are still at large.
Sen. Judgment does not want us to consider his friendship with Raile Odinga as we consider who we should elect president, who we should trust to name secretaries of state and defense, who should serve as Commander in Chief.  But there he is again, hanging out with the sort of people most Americans wouldn't waste spit on.
For more on Odinga and his relationship with Sen. Judgment, view this clip:
clip hat-tip: Jim
Posted in 2008, Obama, Uncategorized | 15 Comments » | |
Trackbacks/Pings
Comments

Bookworm


Incredible post, Laer.  I forwarded it to some of my friends on my "power" email list, and I hope it gets some traction.  Obama has a knack for finding the bottom feeders, doesn't he?  One might be forgiven for thinking that it's not just the coincidence of his being a friendly guy, but that it's a result of his sharing their interests and beliefs.

NoMoreClip


hope you made a back up of the clip

Billdemo2


Footage of Obama and Odinga campaiging together in Kenya.
http://www.youtube.com/watch?v=c6eVVVKFHu0

Antonio Sosa


Obama support for a Marxist thug who has demanded that Kenya stop cooperating with the U.S. and international authorities on the War on Terror in TREASON. He must be impleached.
Leave a Reply
[The "Comment Box" is WYSIWYG except that you have to double space between paragraphs!
Type it the way you want it to look -- Just remember to double up those line spaces.]
You must be logged in to post a comment.