September 17th 2008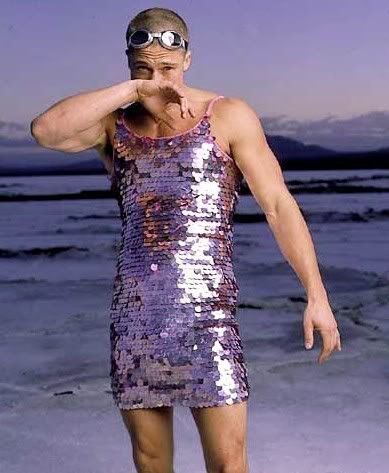 I
t's a mere pittance following the ACLU's contribution of $1.2 million to the No-on-8 campaign to turn back the vote of the people and bring gay marriages of all sorts and sizes to California, but it's another indication of the advertising blitz that opponents of gay marriage and fence-sitters will have to endure:
Actor Brad Pitt said today that he will donate $100,000 to beat the November ballot measure that would outlaw gay marriage.

The Los Angeles Times' celebrity reporter Tina Daunt has more details, including this gem: "Pitt's donation marks the largest thus far to the anti-Prop. 8 campaign by an A-list celebrity." (SacBee)
Proving that "A-list" and "F-grade" still go hand in hand, Pitt issued a statement:
"Because no one has the right to deny another their life, even though they disagree with it, because everyone has the right to live the life they so desire if it doesn't harm another and because discrimination has no place in America, my vote will be for equality and against Proposition 8."
Hmmm. Does that mean he no longer supports abortion?
I know of no one who supports 8 who doesn't want gays to live the lives they want (as long as it doesn't harm us by dragging public obscenity into our schools and neighborhoods), and doesn't want them to live lives free of discrimination.  Go ahead, do all your stuff amongst yourselves, even if normal folks find it disgusting.  By all means, visit each other in hospitals and let each other execute wills, and get tax breaks, whatever.
Just don't get married.  Get civil unioned.
Posted in Gay Marriage | 1 Comment » | |
Trackbacks/Pings
Comments

Edmond Schultheis


Brad Pitt, The man of all season! A person that is kind hearted, sexy, intelligent, sexy, playful, and did I mentioned SEXY as hell.
Leave a Reply
[The "Comment Box" is WYSIWYG except that you have to double space between paragraphs!
Type it the way you want it to look -- Just remember to double up those line spaces.]
You must be logged in to post a comment.